My daughter loves her coloring books. It's the one thing that can occupy her for hours as she chooses the correct colors and meticulously colors in the drawing. She adds her own splash of creativity with added objects or patterns to make it truly her own.
What about your kids? Do they love coloring books? What type do they like the best? There is so much choice these days when it comes to what is available. Books range from the complex patterns to simple drawings and everything in between.
HIRING AN ARTIST
At Konnectd Kids have just taken on our very own coloring book artist. It was a bit of a process as you need to find someone that can interpret your vision and turn it into unique artwork that will appeal to kids. My stick figure drawings were just not cutting it, we needed a professional! We had over 100 applicants apply for the position from around the world and we were able to narrow it down to 5 candidates by interviewing the candidates and seeing their art portfolios.
We then tested the candidates by giving them some artwork to create by giving direction on what we wanted as the final work. This would test their ability to follow instructions, as well as their artistic ability under time pressure. Each was paid for the work they produced. All delivered great artwork and it was really hard to personally choose an artist that stood out, as they were equally as good.
So what do you do when you can't decided on who produced the best artwork?? You get your target market to decide. My wife, Melissa, who is a school teacher just happens to teach a class of 8 and 9 year olds. What we decided to do to help us make a decision on who would join our small business, was to test the coloring images with her class. Each coloring page was printed out and every child was given 3 votes to give to the artwork they liked the best. They could give all 3 votes to one illustration or split them between 2 or 3 others. 
It was interesting to find out why they chose certain artwork. It turns out that most kids did not like the very detailed work as much as it would take too much time 🙂 This was something I would have not considered. They liked the drawings that they could complete without too much effort, but with enough detail that made it interesting for them to color in.
We tallied all of the votes from the kids and narrowed it down to 2 artists. We conducted a further interview with the both of them, and finally chose our winner. The final candidate was chosen more on what we thought would be the best fit to work with my wife and I, as we try to grow this business.
Our first coloring book which has a range of illustrations from the tests we ran with the top five artists is now for sale on Amazon. You can get it directly on Amazon here: https://www.amazon.com/sloth-coloring-book/dp/B08DST1XXN
With our artis onboard as a full time member of the team we are now working with them to produce our Halloween series ready for 31st of October. We will be releasing these as each one is completed. Our first book by our new artist (Marco) just went live a day or so ago on Amazon. It's all about Zombies!! Who doesn't like brain eating zombies 🙂
Our next book in the Halloween series is Witches, followed by Vampires. Keep an eye out as these come out over the next few weeks. You can find links to them in our Konnected Kids 'Shop'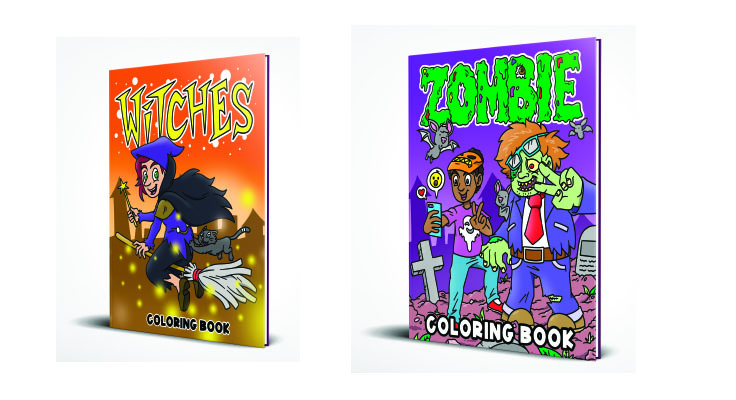 We would love to hear what your kids love to color in to help us decide what coloring book to design next. head over to our facebook page and let us know in the comments section what coloring book your kid would like to see. Tell us a coloring book type on the facebook post and we will send you a PDF version of your choice of our Witches or the Zombie Coloring book for free. You can then print out for your kids to color. This offer is open for a week until Friday 21st August.
Until next time. Stay safe everyone!