Like most people, I find it incredibly hard to find a gift for my dad that he already doesn't have or really wants. He doesn't need more socks or ties or a picture frame with my family in it. (I'll reserve that for Christmas) It's been really hard to find something creative and unique to give him to say thanks for everything he has done for me over my lifetime.

So what should you give to the special man in your life – your dad, stepdad, grandpa, or father in law that is different or unique? Well, we have may have found a unique solution from the team at Konnectd.
Aside from publishing books (801 Totally Amazing Dad Jokes and Totally Awful Dad Jokes) Konnectd also have an Etsy store where they sell a number of gifts for Dads (Hats, Tumblers, Keychains, Jewellery, Watches) however what they have just come up with for Father's day is rather special.
Today we wanted to introduce you to something truly different and unique and something that has only just started to gain traction with the wider public. What is it you may ask? It is a range of Fathers Day NFTs. You may have heard the term NFT lately with high profile artists like Beeble, or marketers like Gary Vee selling their artworks linked to the 'blockchain' giving them uniqueness and rarity for those that own them.
So what is an NFT?
NFT stands for Non-Fungible Token. Fungible means that it is interchangeable. For example, two $10 notes have the same value and are essentially the 'same', whereas content like digital artwork that is 'minted' on the blockchain is unique and therefore non-fungible.
NFTs are not a cryptocurrency however they do use the same technology as bitcoin by being recorded on a blockchain. You can purchase an NFT with the Etherium cryptocurrency.
Fathers Day NFT
Konnectd's Fathers Day collection is not just an NFT digital artwork, for those that purchase the initial release of their NFT artwork on Opensea, you will receive it laser engraved on the back of a quality stainless steel black wristwatch, which on its own has a recommended retail of $89.99. They will also ship it to you as part of the purchase of the NFT. Winners of the NFT will be given information on how to claim the wristwatch by Opensea once the NFT is purchased. Please note with production and freight time you may not receive the Wristwatch until after Father's Day.

There are 5 artworks. The Lion and Bear will be released first with Owl, Wolf, and Eagle to follow. Each Wrist Watch engraving will be numbered as per the below images to show what NFT it was issued against eg 1/10, 2/10, 3/10 etc

Prices for these NFTs and the Watch start at just 0.07 or around $195USD, depending on the exchange rate on the day.

Click here to see these NFTs on Opensea. The complete collection of NFTs will be released over the week of the 7th of June.


How can I buy one of these Fathers Day NFTs ?
To purchase, you will need to go to Opensea.io and set up an account. It is a rather simple process, however, there are multiple steps.
There are three things you need in place to open an account and start buying and NFT on Opensea. Etherium, A wallet and an Opensea account.
The first is some digital currency. Opensea uses Ethernet as the currency for buying and selling. There are also 'gas' fees associated with using Etherium. This is the cost you pay for the computing power to make a transaction on the blockchain.
You can buy Etherium by registering with an 'Exchange' such as Coinbase. An exchange will transfer your dollar into Etherium.
Etherium needs to be stored somewhere, and that place is called a 'Wallet'. The same way you get cash out from an ATM and put it into your wallet is similar to how an Exchange and wallet work. The Etherium wallet I use and recommend is called metamask.
Once you have bought Etherium and transferred it to your Wallet then you can set up your Opensea account and link your wallet to it. Once this final step is completed then you are all ready to purchase NFTs on Opensea.
NFTs are still a bit too complicated
If jumping into the new world of digital artwork is a bit too complicated for you, then Konnectd can still help you out with your Fathers Day Gift needs with traditional gifts for Dad.
Hats/Caps
They have a range of Dad hats that make a great gift for Fathers Day. These are high quality hats with embroidery to give a quality result that will last for years. Made from 100% cotton twill and an adjustable buckle to suite the majority of head sizes.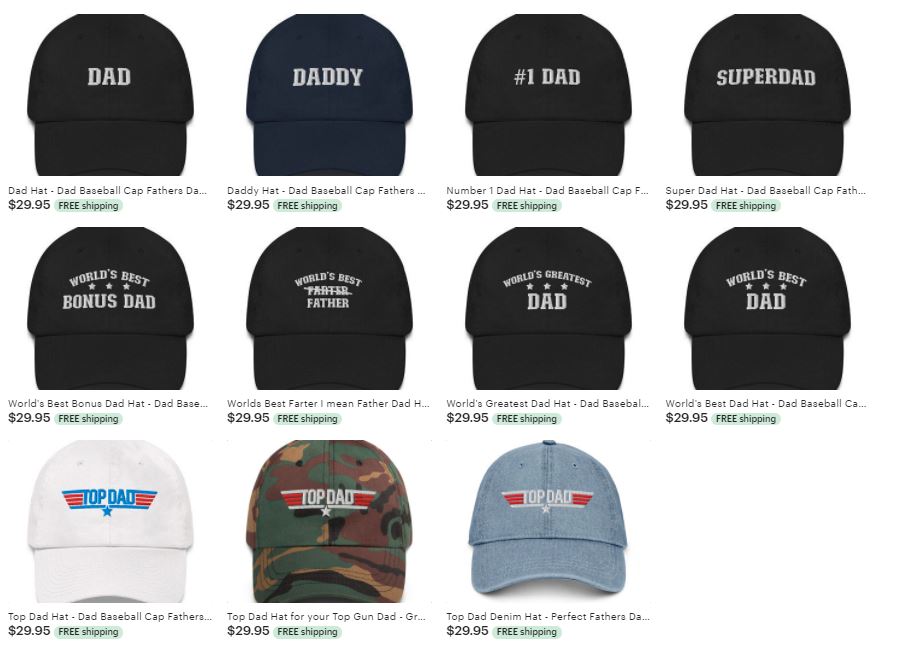 Tumblers
Double-walled insulated Tumblers with great Fathers Day graphics that Dads will love. We use Polar Camel tumblers in a range of colors to laser etch our dad's sayings and graphics.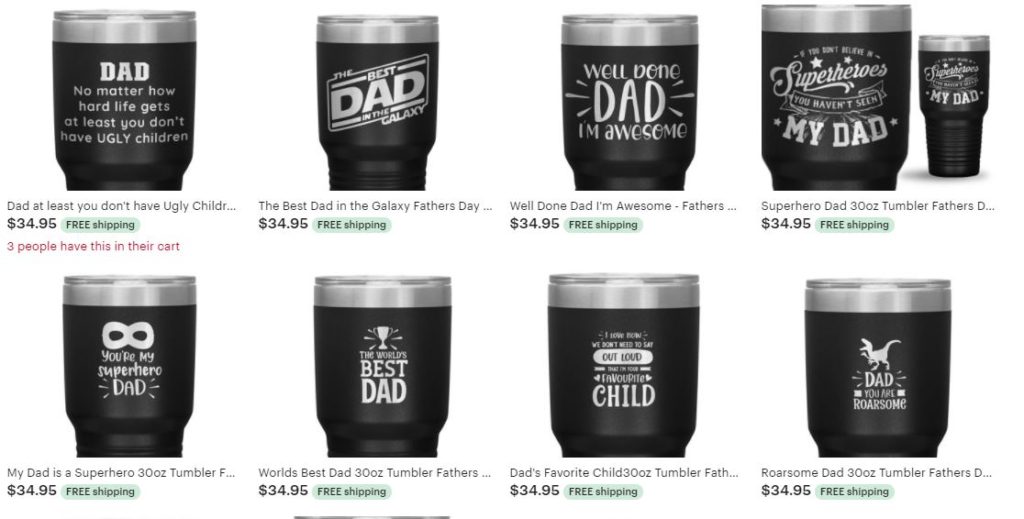 Keychains
A personalized screwdriver keychain for Dad will hit the spot. With a Dad-themed graphic on the front and the ability to add a personal engraved message on the back of the keychain tag. This makes the perfect gift for a handy dad, grandpa, stepdad, or father inlaw.

Personalized Cross
What better way to celebrate faith and family than with one of their Fathers Day stainless steel crosses. These are able to be engraved on the reverse of the cross with a special message for Dad.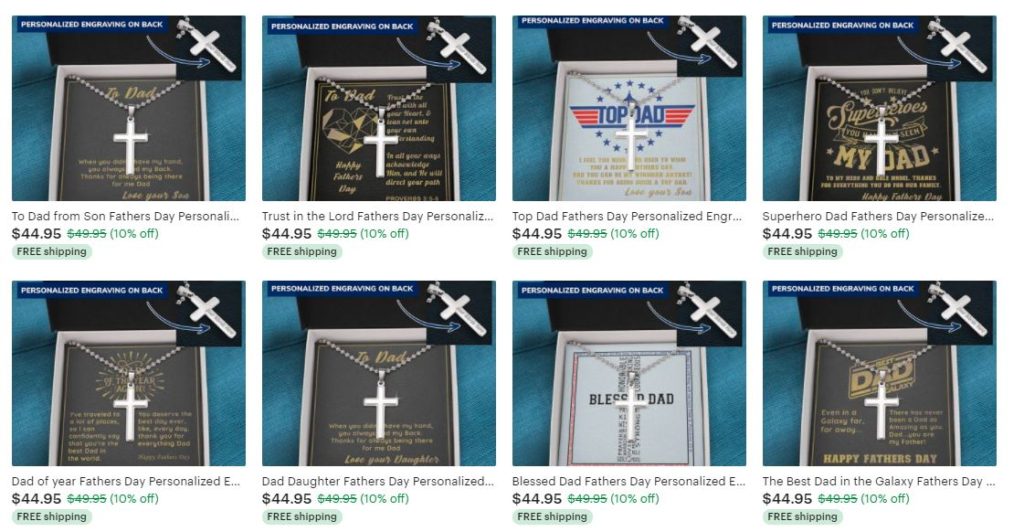 Whatever gift you get for Dad this Father's day, we hope that he has an amazing day and feels the love and appreciation from you and your family.
Below is a Pinterest friendly photo…. so you can pin it to your Gift Ideas Board!!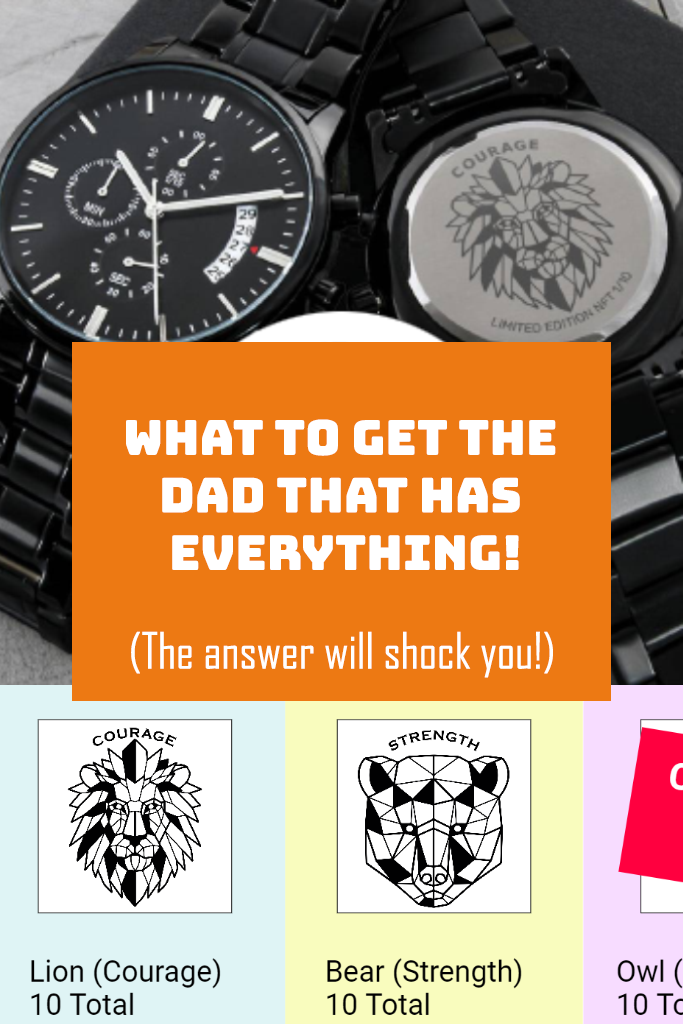 Sharing is caring!