With everyone at home it can be a challenge to find things for the kids to do to keep them occupied. There is only so much Netflix that can be watched and online games that can be played.
Konnectd Kids has a number of books that we created for kids (and Adults) for activities such as Bird Watching and Fishing to be able to log outdoor experiences and adventures. We created these books prior to all the craziness of lock downs and shelter at home orders. Some of these things like fishing aren't that easy to do at the moment
However Journals such as our popular Bird Watching Field Guide an Journal can be used to get the kids out into the yard to be able to spot and record the different birds, the songs they sing and details about the environment they are flying about. You don't even need binoculars for this activity. Kids can then research online the types of birds they have seen to be able to record the identified bird names.
We already had a Dinosaur guide and journal to go with our Konnectd Kids Dinosaur Explorer Kit. This was more for kids to use their imagination out in the back yard exploring for Dinosaurs and recording what they saw. Kids love Dinosaurs so we wanted to mix education with some fun Activities and have just launched out new Dinosaur Activity book.
Activity books are great for the current Stay at home situation as they can occupy kids for hours with the various puzzles and activities to keep the kids entertained. We designed this activity book to help educate as well as entertain, so included information about Dinosaurs, their names and talked about the most common ones. We hope your kids enjoy it.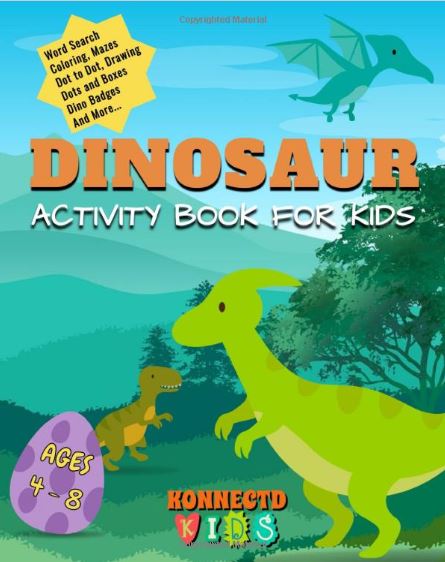 Grab a copy of our Dinosaur Activity Book for kids from Amazon